Posted by : 「KeenH」お姉チャンバラZ~カグラ
Dec 22, 2011
Intro

The Specialists is a multiplayer mod for Half-Life. The final version of the mod is 3.0.

History

The game was created by Filippo "Morfeo" De Luca & Lorenzo "John_Matrix" Pasini. Originally made to be a team-play game, The Specialists soon evolved into a "Free-For-All" game with action movie realism. The Specialists 1.0 was first publicly released on October 29, 2002.

Gameplay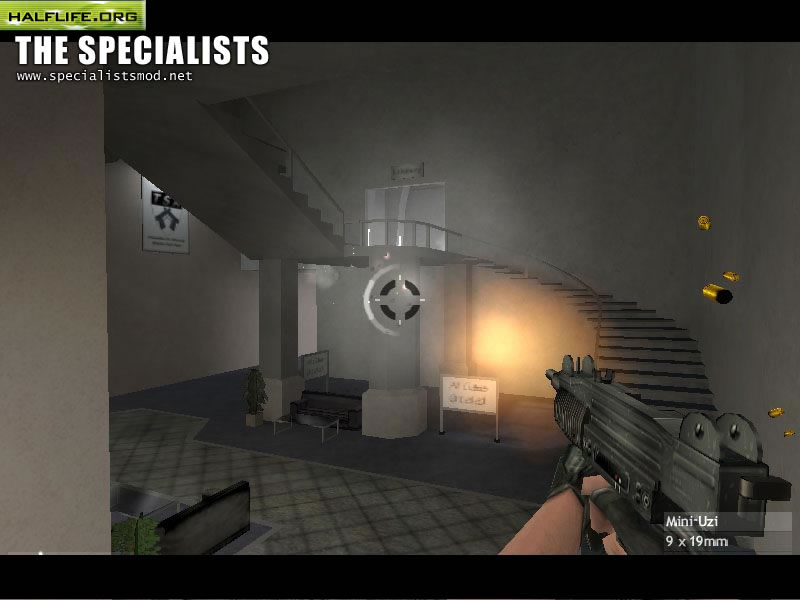 The Specialists is intended to resemble a generic action movie, and is often compared to the film Face/Off. It contains over twenty-nine weapons, many power-ups, and five official game-types (although there is an unofficial game-type, Role-Playing).
One of the features that The Specialists is known for is "Bullet Time", the ability to manipulate time to pass in slow motion. The game also makes heavy use of stunts, even rewarding players with scoring bonuses for stunt combinations, and also has a simple, yet complex, kung fu system for melee attacks. Although it is far from being the first shooter to include stunts and kung fu, The Specialists is the first to combine them with multi-player slow motion game-play.
The various stunts that can be performed are all dependent on the direction that the player is looking in. Weight is a very important part of The Specialists, as it determines a large part of how the game can be played. Carrying vast amounts of firepower will limit the number of stunts able to be performed and the speed at which they the player can move, whereas players armed with only knives or a pistol will be able to move very quickly and perform more stunts. The Specialists contains a variety of power-ups, which can be separated into two categories: Passive and active power-ups. Passive power-ups do not require activation: they last until the character is killed, and their effect is maintained for the entire time. All can be found on the map but most of these are awarded after reaching a certain status. Active power-ups must be activated to have an effect. Active power-ups last for three or five seconds depending on which power-up is used. Active power-ups can be particularly devastating when used with an appropriate weapon. The player may only carry one active power-up at a time.
So ? are you interesting with this game ? yeah i know this game is old, but gold !!!
If you looking for the link download,well i put it below (I Just share the link,
i'm not uploade
r of the file !)
The Specialist Version 2.1
Download in Gamebanana.com :
TS Version 2.1 (137 MB)
Download in moddb.com :
TS Version 2.1 (137,28 MB)
The Specialist Version 3.0
Download in Gamebanana.com :
TS Version 3.0 (155 MB)
Download in moddb.com :
TS Version 3.0 (155,1 MB)
How to Install The Specialist ?
hmm take a look below :
NOTE : Before install,make sure you have CS 1.6/Condition Zero Installed in your PC.
1.Open setup,install "The Specialist" (install the files in directory anywhere you want,Example "D:\games").
2.After the instalation complete,open the directory where you install "The Specialist".
3.You should have folder called "TS" inside, right ? then lets go to next step.
4.Cut/Copy the folder "TS" to your CS 1.6 Directory. (Example "C:\programfiles\counterstrike1.6 no steam\").
5.Paste the folder "TS"
OUTSIDE
the folder "cstrike" or "czero" or "valve".
6.now open the "TS" folder !!! and right click,"New" then select " text document".
7.Then,type the script like this :
8.Almost done ! now select file>save as> the specialist.bat
9.Complete ! now just double click "The specialist.bat" and Enjoy the Game !.
We hope, our tutorial helpful for you. If you still don't understand,try use google to search another tutorial :P
Regards,[KeenH]Project Team